Search Engine Optimization or 'SEO' involves rightly fusing keywords into website content. Marketing channels use it thoroughly for digitally reaching out to potential clients. SEO bring quality traffic to any website through organic search engine results.
Nowadays, a majority of companies are investing in SEO so that their website ranks above the rest in search results.  Organically boosting the traffic is a difficult task and one needs to invest in other channels so that there is consistent traffic flow on the site and leads grow in number.
Producing great content on the site is one of the best ways to boost traffic as people who find the content engaging and easy to understand are likely to visit the website again. The products/services online must be described and uses must be elaborated in a way that appeals to the client.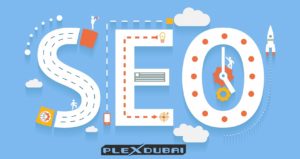 How does it work?
There are many elements which affect website rankings on Google. However, there are a few a basic points that one can take care of: quality content, popularity and relevance. In today's digital era, content is king. One of the easiest ways to boost SEO rankings is therefore, by constantly posting fresh. Being certified Google partners, we at PlexDubai possess the means and techniques that guarantee SEO rankings.
How long does it take?
SEO is a digital tool which requires time and effort for the results to be positive and the campaign to be successful. The time frame to expect for the same is at least 4-6 months.
FYI, our scope of work under this can be summarized into the following points;
Optimizing Google pages for the keywords selected; giving importance to keyword relevance instead of keyword density.
Using long-tail and less competitive keywords; this brings in the right kind of target audience which means you will be able to attract high-quality prospects who have a definite interest in your offerings.
Timely reporting which includes comprehensive detailing about how the campaign is being executed, all the relevant technical information and so on.
If you're looking to invest in a cost-effective yet result-oriented digital tool – SEO is the way to go. Just get in touch with one of our experts and we'd be happy to help.